are you prepared?
Sunday, November 11, 2012
Join me by linking up to
A Bowl Full of Lemons 8 weeks of Emergency Prepardness
starting December 8th, 2012.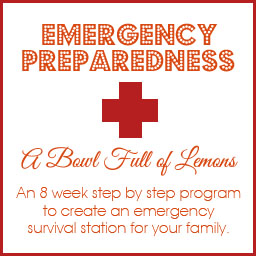 This program is 8 weeks long and each week completes another step in your emergency kit. Which is great because it can be very overwhelming to take it on at once; which is probably the reason why I haven't started mine. It has been on my to do list forever. Kind of excited to get one more thing, one important thing off my list. Here is a list of what each of her weeks will entail:
Emergency Preparedness – "Emergency Survival Station"
Week #1 – STORAGE (Shelving, Backpacks, and Bins)

Week #2 – BASIC NEEDS (Food & Water)

Week #3 – MEDICAL (First Aid Kit & Medicine)

Week #4 – EMERGENCY BINDER & CASH (Important documents & a cash stash)

Week #5 – SUPPLIES

Week #6 – PET & HYGIENE KIT

Week #7 – COMFORT (Clothing, Toys, Games)

Week #8 – MY SURVIVAL STATION REVEAL & LINK PARTY
Visit her
blog
and link up now.
Just a note: if you follow her blog, she has the means to buy tons of organizing tools so everything looks pretty and uniform. I don't have that kind of room so following me will show you that you can accomplish the same goal at a much lower cost.
We will see what comes with each post. If she doesn't have one already I will be including a food/water replacement tracker so you know when to replace with new.
Start thinking about the first couple of weeks. Are you excited?! I AM!