getting ready
Monday, November 12, 2012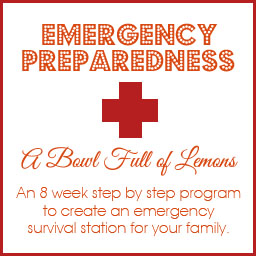 In a previous post I introduced the
Emergency Prepardness 8 Week Program
that
A Bowl Full of Lemons
is hosting and I knowing my schedule I knew I had to start very soon.
I pondered where I would 'house' my emergency kit; being in Arizona I know we can't keep it in the garage because of the extreme summer heat. So it has to be inside somewhere. The best place I could think was a multi-use closet we have in between the kitchen and living room.
Thinking of the place was very easy compared to the undertaking I had ahead of me. With everything that we have going on from our 2 yr old sports, working, school, life etc this closet of ours became our "catch all" for things that didn't have a dedicated home downstairs. Lets just say it needed some serious love. My husband and I work opposite days to elleviate the need/cost for daycare so when I am home I am outnumbered 2 to 1. So I strategically tackled this closet project during nap/feeding schedules and knocked it out.

I removed everything. Wiped it all down and cleaned. I then separated everything into Keep, Toss and Donate piles. Then with the keep pile I put them in upstairs, garage, bedroom, etc piles. All of our board games are still in this closet. I emptied all of the contents of each board game into food storage containers I found at the Dollar Tree. The boards that go with each game are labeled and are placed in the dark blue bin at the top right. The entire 2nd shelf are all of my daughter's art and craft supplies that she needs adult supervision for. The 3rd shelf down are bins with my Scentsy loveliness in one and the other has diapers and wipes. The bottom shelf with the two boxes: one will actually be moving upstairs into my office and re-stored into new containers and the other is full of my candle supplies for the upcoming Emergency Prep. I wish it was all uniform with matching bins but I used what I had on hand with exception to the game containers.
Now this little space is ready for our family emergency station! December 8th will be here before you know it...start thinking where you will keep yours.